Pain Management  & Weight Loss with Contour Light in Tustin
Whether you need help to ease pain or you want body contouring, our contour light therapy program can help. Contour Light is an FDA-approved tool for managing pain and assisting in weight loss. In fact, studies indicate it can help with the pain of peripheral neuropathy as well as weight management. This non-invasive treatment removes fat cells from targeted areas without surgery and helps reduce inflammation that can lead to pain.
With this popular form of body sculpting, also known as low-level laser therapy (LLLT), we place light pads directly on your skin to dissolve the unwanted fat cells. Lasting up to 40 minutes per session, this therapy can reduce pounds and ease inflammation in your joints and muscles, allowing for better movement and more comfort.
Once each session is complete, you can return to normal activities. We also encourage to follow a healthy exercise regimen and diet.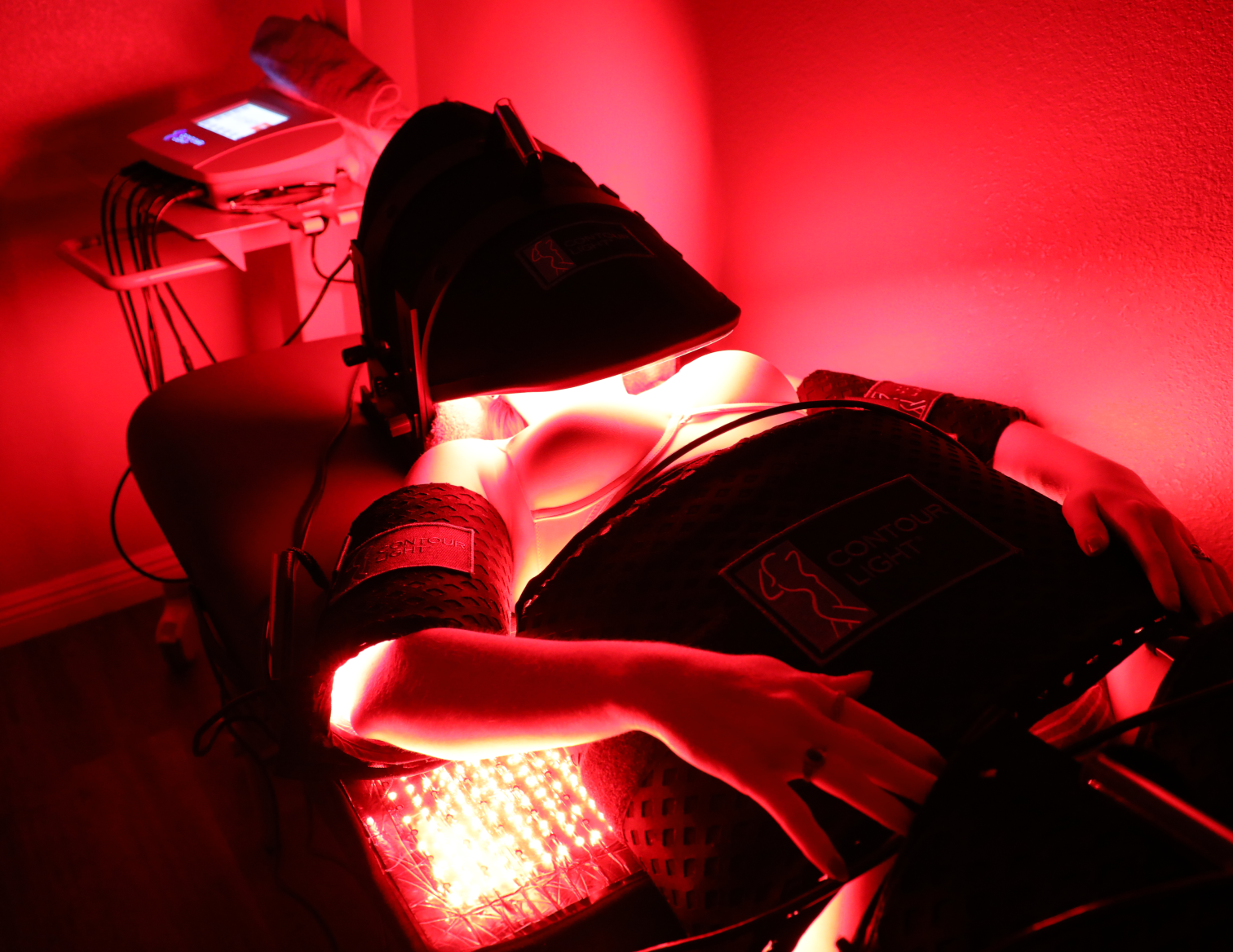 How Contour Light Works For Weight Loss
The professional and caring staff of Voitenko Wellness wants you to achieve your fitness goals. This is a new safe alternative to liposuction, we can target multiple trouble areas all at once.
The sessions consist of small to large pads that are warm, comfortable and relaxing. Most patients even fall asleep. The red light causes the fat cells to release its contents to shrink the cell itself. Resulting in loss of inches and weight. The body eliminates waste through the lymphatic system, in our program to help this process we use a vibration plate. Along with drinking plenty of water, eating properly and exercise you will effectively eliminate waste from the fat cell.
The Contour Light Weight Loss And Pain Management Procedure
Contour light therapy is a painless treatment that can accelerate weight loss, and reduce pain, inflammation, and discomfort. Treatment is generally spread over multiple sessions, each lasting up to 30 minutes. For each treatment patients will lie down and relax with the red light pads placed appropriately.
Once you are relaxed your body will absorb the red light's wavelengths. These wavelengths allow your body to shrink fat cells. This in turn will cause the release of waste which reduces inflammation to stimulate the healing of muscles, ligaments, tendons, bones, and tissues.
Other Benefits of Contour Light Therapy
In addition to weight loss and pain management, other benefits of this therapy include:
Production of Vitamin D in skin cells
Improved skin by stimulating collagen
Tighten & Tones
Fewer body pains and aches
Better sleep
Accelerated wound healing
Heightened athletic performance
Decreased inflammation
Improved mobility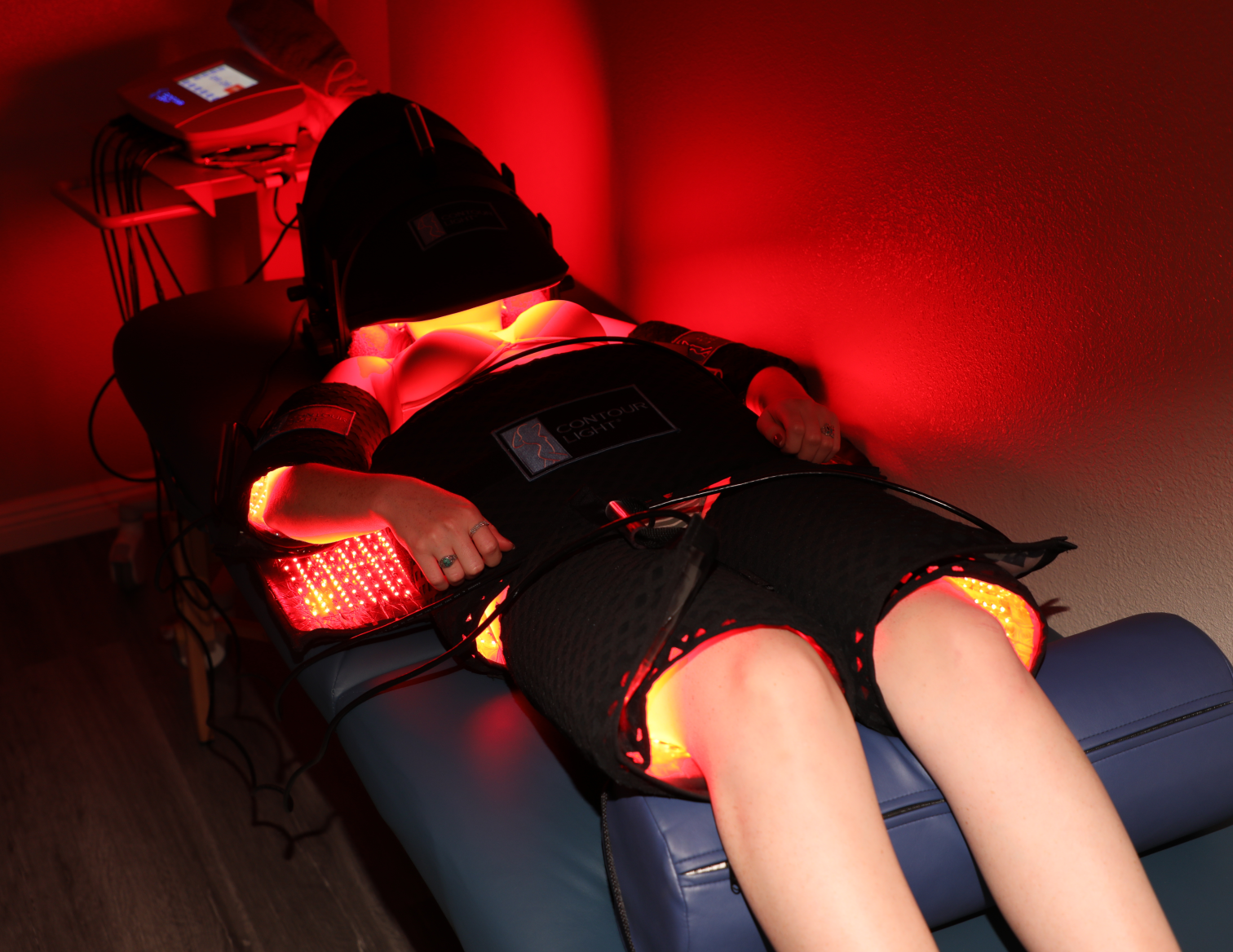 How long do the results last?
By maintaining a healthy lifestyle through proper diet and exercise, weight control results can be long term.
Does Contour Light Therapy Hurt?
Contour light therapy for pain management and weight loss from Voitenko Wellness is painless and completely safe. Treatments do not hurt, burn or cause inflammation.
To learn more about our weight loss and pain management programs, including our free patient consultations, contact us here or call (714) 730-2225.